FREE SHIPPING ON ALL ORDERS
What is Hyaluronic Acid, and What is its Purpose in Skincare?
Are you starting to notice fine lines, wrinkles, and a loss of fullness in your skin? While there's no way to stop the clock, you can fight against signs of aging by choosing products that have powerful age-defying ingredients!
Ambered Ember's signature Plumping Serum will become your new holy grail product! It's packed with potent ingredients, including hyaluronic acid, to firm and plump the skin!
Hyaluronic acid is one of the most effective ingredients for rewinding the hands of time! It's a powerhouse ingredient that is clinically proven to reduce visible signs of aging, such as loss of fullness, fine lines, and wrinkles. It can also stimulate the growth of collagen and elastin in the skin.
Curious to learn more about this incredible ingredient? Keep reading for more!
What is hyaluronic acid?
Don't be scared by the name – not all acids are scary! 
It's not an exfoliating, stripping, or harmful ingredient. In fact, it is a vital component that keeps the skin healthy and functioning!
Hyaluronic acid, also known as hyaluronan, is a naturally occurring substance in the human body that acts as a cushion and lubricant in joints and tissues. The biological function of hyaluronic acid is to help hold your cells together. It will prevent the skin from getting dehydrated by drawing water into its moisture barrier. It can stimulate collagen and elastin growth, keep your skin moisturized, and reduce the potential for skin scarring. 
As the body ages, its hyaluronic acid, elastin, and collagen production decline. The reduced production of the skin's vital building blocks can lead to a significant loss of fullness, dehydration, and exaggerates fine lines and wrinkles.
To help fight this natural aging process, many skincare companies have developed topical products with hyaluronic acid to help restore the skin's youthful bounce and support its rejuvenation processes.
How is it used in skincare?
You've probably seen hyaluronic acid as an ingredient listed in many skincare products. At the moment, hyaluronic acid is one of the most potent anti-aging ingredients available on the market!
It's an essential ingredient in many formulas because its smaller molecular size allows it to penetrate deeply into the deeper layers of the dermis. This powerful humectant draws moisture from the air and binds water to the skin's collagen. It can hold almost 1000 times its weight in water! The abundance of moisture it attracts into the skin will keep your complexion looking fresh, plump, and full!
Why is it more effective topically?
There are a lot of hyaluronic acid supplements available in the marketplace. While you can likely safely ingest hyaluronic acid, it produces quicker visual results when applied topically! 
When your body's natural reserves of hyaluronic acid are exhausted, your skin starts to show signs of aging. Hyaluronic acid's powerful humectant properties will immediately bind moisture into the skin when applied topically, resulting in a plumper and more hydrated look. It can also soothe redness and dermatitis!
When used habitually, hyaluronic acid can also stimulate collagen and elastin growth, keep your skin moisturized, and reduce scarring in the skin. It will keep your skin feeling and looking supple by stimulating the body's natural regeneration process and keeping the skin hydrated.
Is it more effective than retinol?
Retinol has been proven to stimulate collagen production, and it can be very beneficial to achieving your skincare goals. It is very powerful, but it requires a significant amount of time and patience to see results!
Many individuals who have used retinol experience excessive irritation when using it. As retinol stimulates your skin's collagen production, it will cause your skin to purge. This purge phase can cause uncomfortable peeling of the skin, tightness, and exacerbate breakouts and flare-ups.
Many individuals do not see visible results while using retinol until months down the line.
Hyaluronic acid is a gentler alternative to stimulating your skin's collagen production. While it will take a little longer than retinol, it is a more comfortable journey.
Because it is incredibly hydrating, it won't cause the same irritation as retinol. It also will immediately hydrate the skin on a deeper level which is perfect for individuals with dry, sensitive skin.
The best part? There's no uncomfortable purging phase, and the visible glow and plumping results are immediate!
What's not to love?
Preserve your glow!
There's no way to stop the clock! However, it's possible to reduce the visible signs of aging by choosing products that have powerful age-defying ingredients!
Hyaluronic acid is one of the best anti-aging ingredients available in the skincare market. The key to preserving your youthful glow is choosing a formula with high-quality ingredients and a potent concentration of hyaluronic acid!
But, we've got you covered, so you don't have to look any further! 
Ambered Ember's signature Plumping Serum will become your new holy grail product! Its high concentration of hyaluronic acid will intensely nourish, plump, and hydrate your skin from the inside out! Our signature serum promotes both immediate and long-term regenerative benefits for your skin! In addition, it's vegan-friendly, made with clean ingredients, and is gluten and cruelty-free! 
You've got to try it to believe it! So grab your bottle of our Plumping Serum today!
Continue reading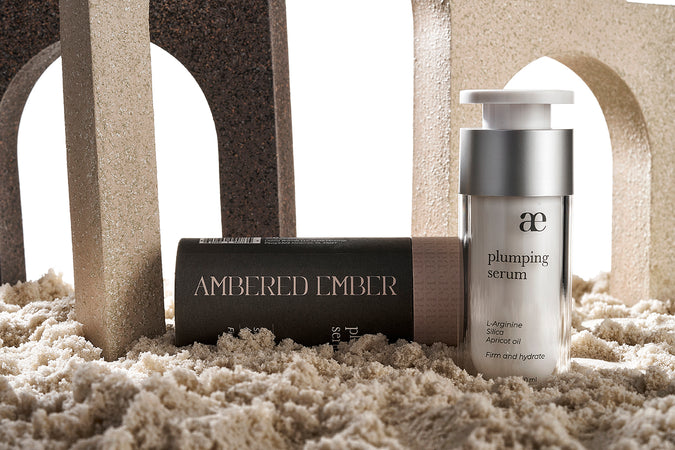 Follow us